The expedition vehicle - Der Grosse Wagen
You will find the most important details in English here. If you want to see pictures of our vehicle please visit our German description: click here.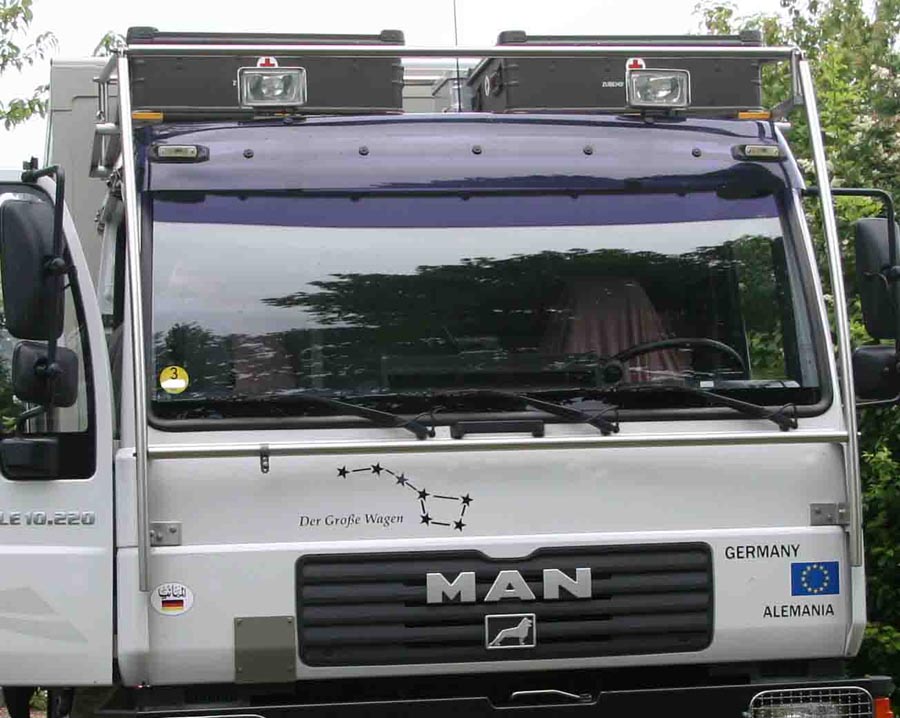 Why MAN 4x4?
First of all we wanted to have a four-wheel-drive vehicle. We did not choose a Mercedes Sprinter 4x4 or an Iveco Daily 4x4, because we wanted to have sufficient amount of water, fuel and food for longer trips.
In addition travelling on long distances should be comfortable. We also wanted a fixed double bed, a big kitchen, a bigger fridge, an oven, an indoor shower. There should be a walk-through between driver's cabin and cabin.
Technical details of the vehicle
Vehicle type: MAN LE 10,220 4x4
Engine: D0836LFL02
Engine power: 162 kW
wheel base: 3560 mm
Total weight: 10,000 kg, reduced to 7,490 kg
Gear box: 6S-850 ZF
Fuel tanks: 2 x 300 l (2 x 79 gallons)
Fuel filter: 2 with heating
Additional fuel filter: Separ with water separator
4x4: non-permanent, shiftable
Transfer gear box: G102
Differential lock: Rear axle and front axle
2 heavy-duty accumulators 12 V 140 Ah (voltage 24 V)
Alternator: 28 V, 55 A 1,540 watt
Wheels: Single tyre for TL 11,0-20 8-hole split rims
Tyre: 365/80 R20 TL
Engine bearer for heavy duty
Air filter with preseparator; in addition as our own construction a snorkel
Cooling fan for tropics
Air compressor
Exhaust brake
ABS brake
Drum brakes
Steel bumper
Rear underrun protection device, raisable, type Ring feather UFSII (replaces original MAN underrun protection)
Protective grids for headlamps
Anti-theft device
Cruise control (Speed control)
Driver's cab in heavy-duty construction, as delivered to Sweden
Grammer shock cushioning seats for driver and passenger
Cabin details:
Length overall: 445 cm (14.6 ft)
Width overall: 230 cm (7.6 ft)
Height overall: 195.7 cm(6.4 ft)
Head clearance: 185 cm (6 ft)
Dimensions overall vehicle + cabin:
Length: 657 cm (21.6 ft)
Width overall: 239 cm (7.8 ft)
Height overall: 330 cm (10.8 ft)
The cabin was built at the company "The Fehntjer". Moreover, the company built the interframe between chassis and cabin (flexible, with shock absorbers in the front), the spare wheel carrier, the walk-through to the driver's cab as well as the stainless steel crane and winch. You find the link to the manufacturer here.
Layout of the cabin: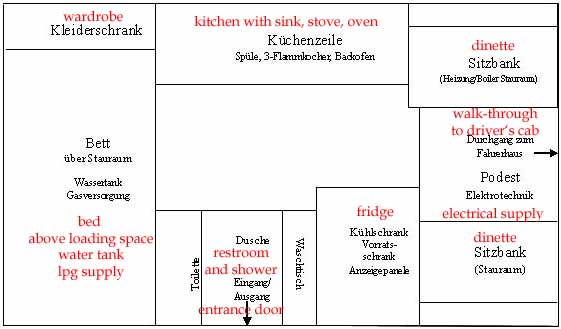 Technology:
- big rear loading space under the bed, accessible from outside by two hatches
- approx. 280 l (74 gal) of water tank in the rear loading space
- approx. 80 l (21 gal) of sewage tank
- hot and cold water supply
- kitchen sink
- shower tub made from stainless steel in the entrance area with washing basin and toilet Thetford C4
- Zarges aluminium entrance ladder (fastened inside in entrance door)
- gas tankbottle Wynen gas 11 kg
- aluminium gas cylinder 11 kg
- gas filling adapter US + euroset
- 3 flame gas stove
- gas oven with grill
- heating: Truma Combi C6002
- compressor fridge Waeco 110 l
- compressor freezer box Waeco CF25
- electrical system completely in 24 V
- additional accumulators 2 x 12 V 150 Ah AGM
- converter 24 V to 230 V
- converter 24 V to 12 V
- for the USA: Converter (up – down) 110 V - 220 V
- solar power supply: 2 x 24V panels, 100 Wp + 1 Sunware solar module 24 V, 70 Wp + configureable charge controller
- vehicle and cabin accumulators are separated by a MOSFET 24 V / 120 A
- Votronic battery computer
- AMS gas and gas attack warning device
- lighting device: fluorescent lamps, halogen lamps, LED lights
- 6 Bonocar vent windows
- aluminium flaps with gas compression springs protecting the windows, can be operated from inside
- 2 skylights
- Roof reck on driver's cab
- bike carrier
- 2 additional floodlights high-grade steel 24 V
- wireless back-up camera system
- navigation equipment: Garmin GPS Map 278, Garmin nuevi, Alan Map 500 , Ritchie-vehicle compass, Recta compass
- 2 CB transceivers Alan 42
- 4 sandladders
- generator, portable
- Son of Hibachi grill
- etc