Atlantic Canada
21st August, 2012
Next we visit New Brunswick, Québec and Ontario. In New Brunswick we spend two days in Kouchibouguac Nationalpark and discover parts of the park on our mountainbikes. Nearby fishermen are preparing for the lobster season.
Québec is different from Nova Scotia. People speak French, very often not a single word of English. There are more nice resting areas and points to stop than before, you can buy tasty French baguettes and there are a lot of "poissonneries" where to buy fish, prawns and so on.
One of the highlights is the gannet colony in the nationalpark "Ile Bonaventure". You can get very close to the birds. There is a slideshow about the gannets and a lot more pictures about Atlantic Canada in our German report. Click the link: Atlantic Canada
Nearby Rocher Percé is also very impressive. All along the coast we find a lot of other attractions: nice lighthouses, big churches built of stone, beautiful landscape, but frequent fog makes it impossible to see them all. This gets even worse along the gulf of St. Lawrence.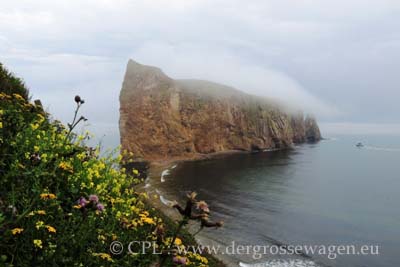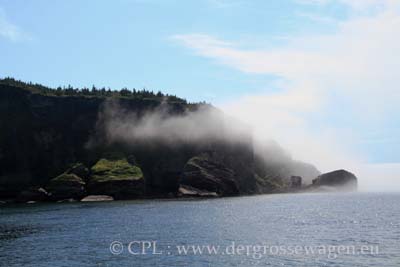 We cross St. Lawrence from Rivière du Loup to St. Simeon and then we head west through Québec, Montreal and Ottawa to Sault Ste. Marie where we enter the US.