Westwards ho!
To see more pictures click the link to the German report. 1 (Großer) Wagen westwärts
Much quicker than planned we leave Atlantic Canada and are on our way westwards. At Sault Ste. Marie we want to cross the American border. But first we have to queue up. It takes much more than an hour to reach the border and another half-an-hour to go through immigration procedure. And we are lucky - we get the permission to stay in the US for one year.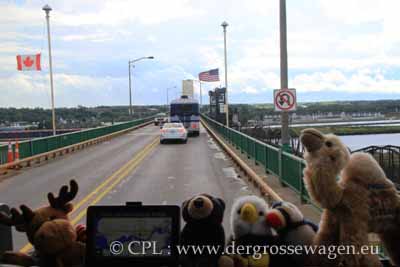 The following days we always find good campspots in the national forests, sometimes even close to smaller lakes. The landscape in Michigan, Wisconsin, Minnesota south of the Great Lakes is more interesting than we expected. And there even are some highlights: Pictured Rocks National Lakeshore, an area with long beaches, high sand dunes and of course the coloured rocks. Lake Superior - and it is really superior: it takes us more than two days of driving along - offers a lot of chances for photographing. There are interesting towns, e.g. Ashland with its historic downtown.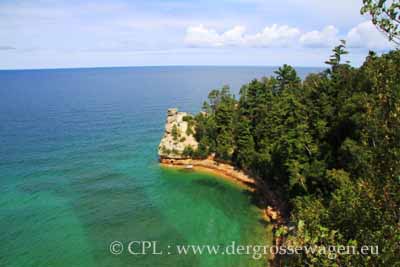 In North Dakota the landscape changes, it becomes more rural. Near Bismarck we stop at Fort Abraham Lincoln State Park - a must for anyone with an interest in early American history. Lieutenant Colonel Custer started from here with the 7th cavalry to the battle that ended with the disaster at Little Bighorn.
Not far away is Theodore Roosevelt National Park where we stay next for a couple of days. More about that in our next report.