Utah
October 2012
Utah is one of the most interesting states in the US. You could spend a year in this beautiful area. That's why there are two reports. This time we are not visiting the big National Parks, e.g. Arches and Canyonlands, but take time for the more unknown sights.
If you want to see more pictures about the regions in this report you should click the link to our German report: Utah 1
The southern part of the Flaming Gorge National Recreation Area is in Utah. We spend some time at the Stateline Beach, where Pronghorns, Mule Deer and Common Merganser are often to be seen. Then we drive along Sheep Creek Geological Loop. In Ashley National Forest we meet Diane and Bob Wolfe. Bob is a photographer and gives his book as a present to us - again thanks a lot for this wonderful book.
Three years ago the Dinosaur Quarry was closed, but now it is reopened, so we go there to see the very impressive dinosaur excavation. We also hike the Sound of Silence Trail again - this is even more impressive in spring when the flowers are blooming.
After that we go to nearby Fantasy Canyon, an area with very nice erosional features. Ouray National Wildlife Refuge is totally different. It provides stopovers for migratory birds. But this time of the year the wetland is dry, and so we do not see any of them. The shortest way south is Nine Mile Canyon Road. We have been there before and we liked it very much. But now the oil boom is expanding, there is a lot of truck traffic and road works - it is not as nice as it used to be.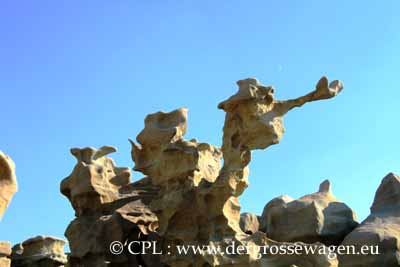 Along Green River Cutoff Road we go to The Wedge. People often call the Canyon of the San Rafael River Little Grand Canyon. The dirt road is pretty good, but signs indicate "Road may be impassable when wet". And that's the case! There is some rain and even with 4-wheel-drive we cannot go on, but have to wait. And afterwards we need a lot of quarters to clean the vehicle. Because of these weather conditions, we do not drive Buckhorn Draw, but follow Utah 10, take a shortcut along Moore Road to Interstate 70 - a nice alternative.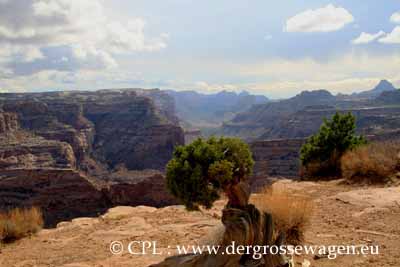 It is getting drier again, and thus we can drive Temple Mountain Road to Goblin Valley State Park and Little Wild Horse Slot Canyon.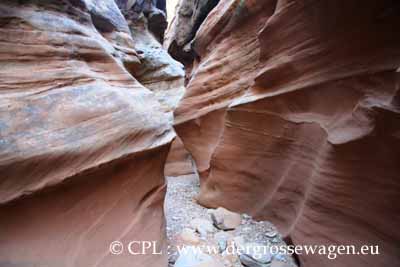 South of Hanksville we stop at Little Egypt Geological Site with its goblins and hoodoos. The formations are more colorful than in Goblin Valley, but they are more densely grouped together.
More about Utah in our next report.