Utah (Part 2)
October 2012
If you want to see more pictures of the wonderful landscape in this report, please click the link to our German report: Utah 2
Back from "Egypt" we drive to Cathedral Valley. First we follow Hartnet Road, along the road there are beautiful badlands and the colorful Bentonite Hills. Soon we reach Capitol Reef National Park, the road deteriorates. We have to spend the night on the small campground, because dispersed camping is not allowed in the park. The view down to Upper Cathedral Valley is very nice.
The next day we drive along Cathedral Road down to Upper Cathedral Valley and Lower Cathedral Valley. The landscape is "the West at its best". But there are steep washes that have to be crossed. At the end there are nice badlands again.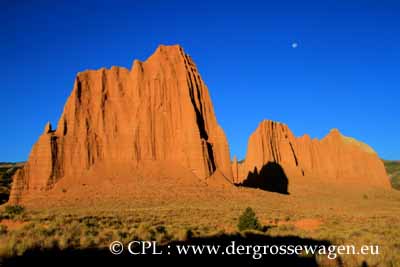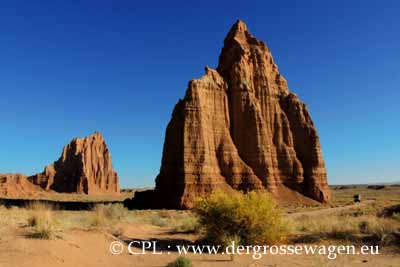 UT 24 takes us through the more visited parts of Capitol Reef National Park. In Torrey the well assorted General Store offers the chance for some shopping before we follow Scenic Byway 12. In Boulder we get the permit for dispersed camping along Burr Trail Road and Wolverine Loop in Grand Staircase Escalante National Monument. Driving through Long Canyon and along Wolverine Loop Road is worth the way.
We find out that the exhaust suspensions both are broken, so we try to fix them with ropes as good as possible and go to a small garage in Escalante, where a very good mechanic is able to "rebuild" the broken parts. So we are able to drive the Hole in the Rock Road. This time we just visit Devil's Garden again. We do not hike to the slot canyons Peek-a-boo and Spooky (we did that last time), instead we hike to Zebra and Tunnel Slot. Unfortunately both of them are full of muddy water. But we see lots of moqui marbles - and the slickrock landscape is very impressive.
In Cannonville we get the permits for dispersed camping along Skutumpah and Cottonwood Roads. At Skutumpah Road there is another nice slot canyon: Willis Creek. One of the highlights at the beginning of Cottonwood Road is Grosvenor Arch, later there are the so-called Candyland, the Cottonwood Narrows and Cockscomb Fault.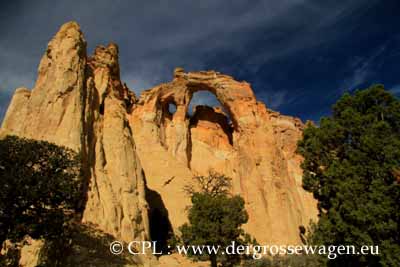 A bad and rugged side road takes us to Wahweap Hoodoos. Normally you have to hike a long way from UT 89, but on this dirt road you get pretty close to the impressive white hoodoos.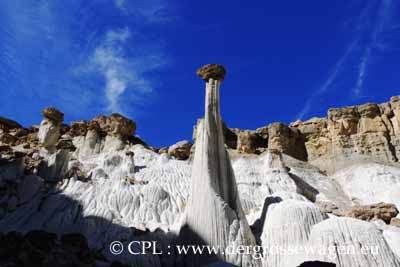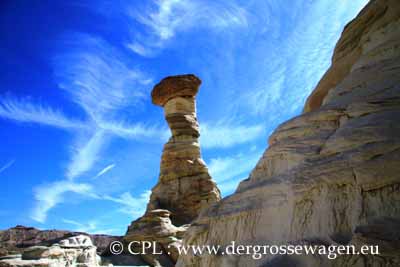 Then we reach UT 89 and drive to the Paria Contact Station to find out about road conditions etc. for House Rock Valley Road. But we cannot go on - our electric starter is broken down. Nothing helps - we cannot start again. So we need a towing service that takes us to a garage in Kanab. We spend the night there, the next morning they take the broken starter to St. George, where they repair it with used parts. Now it works again, but there is a very strange metallic noise. We fear that it won't work for a long time and decide not to go on. Fortunately we have very good friends at home, they buy a new starter for us and ship it with UPS express. In the meantime we stay in Kanab and do some trips with a rental vehicle. But more about that in our next report.