Baja California (English version)
March 2013
If you want to see maps of our traveled route or/and if you want to see many photographs of this wonderful region click the link to our first German report: Baja California (Mexico) - 1
Early in the morning we reach the border in Tecate. Soon we are in Mexico. First we go along Mex 3 to Ensenada. Here we get Pesos at a bank, pay the fee for the tourist card (you do not do this at the border station, but at any bank) and do some shopping. Then we follow Mex 1 south, but soon we leave Mex 1 and head towards the coast to Erendíra. At the nice, rocky coast we spend the first two days watching the birds and the seals. We see dolphins and even whales.
After that we follow Mex 1 along the coast until we reach El Rosario. Here the road turns inland. In this area you find one of the most impressive scenery in Baja California: Valle de los Cirios. Especially the boojum trees (=cirios) are very impressive. And in the region of Cataviña it is even more impressive, because in addition to the wonderful cirios and cacti there are big boulders.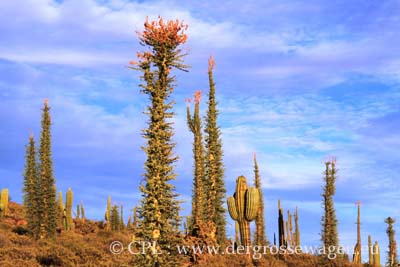 We leave Mex 1 again and travel to Bahía de los Angeles. Along the road a lot of elephant trees. Very often we see turkey vultures sitting on animals killed by vehicles. We spend the next days in the camp La Gringa - it is to be reached on a terribly wash-boarded dirt road. There is a lot of wind, but early in the morning it is normally more or less calm. Then we take the chance to go out with our collapsible kayak. Again we see dolphins and an awful lot of birds.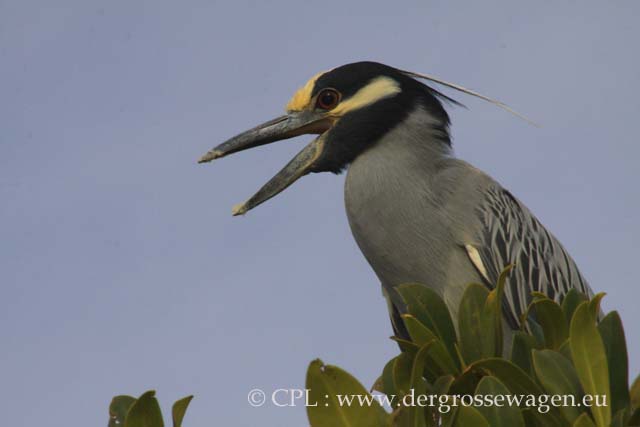 After several days we leave La Gringa. On our way to Mex 1 we spend another night right in the middle of the wonderful cacti.
Our next destination is Laguna San Ignacio. The lagoon is famous for its whales that spend the winter here to have their calves and to mate. The first 23 miles of the road are paved, but there are 17 miles of bumpy dirt road left. We spend the night at Camp Kuyima, see ospreys and geese (Brant). Unfortunately it is raining. But we are lucky. In the morning the rain stops and we can go out in a panga boat for whale-watching. We see a lot of whales, some of them even come pretty close to our small boat - we are really impressed!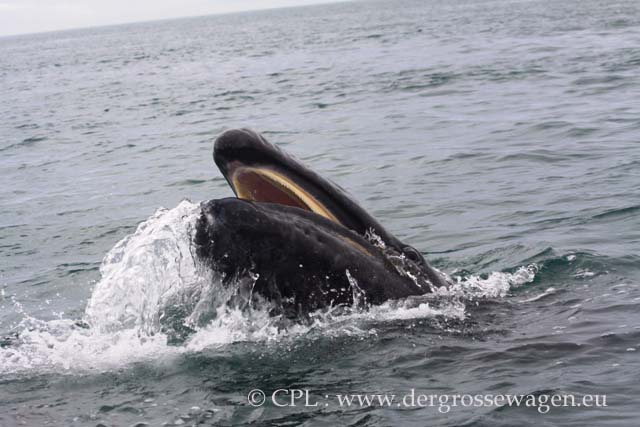 The next day we leave, but the dirt road is still very wet and partly impassable. A 4x4-car has already slipped off a dam. So we stop, head slowly back and wait for better road conditions.
After a night at Rice & Beans in San Ignacio (very close to Mex 1, but a very good restaurant!) we go further south. We spend some time at camps along Bahía Concepción. At camp La Perla we have very nice neighbours (Jamie and Mandy from Canada) and we really enjoy spending some time with them. Weather permitting we go out in our boat (unfortunately not as often as we had liked to), see a lot of interesting birds. Vendors regularly come and bring tasty seafood etc. But at last we have to leave, because we are running out of water and food. This is to be found in Loreto.
Part 2: If you want to see maps of our traveled route or/and if you want to see more photographs of this wonderful region click the link to the next German report: Baja California (Mexico) - 2
We leave Loreto and go to Agua Verde. This means we have to take a 25-mile dirt road. That is no problem, but the steep and narrow way down to the beach is in parts almost too narrow for our vehicle. But the fantastic mountainous landscape makes it worth the way. Once down there are not many possibilities to reach the coast. If there is one, there are already other campers. So we just stay for one night and go back to Bahía Concepción. This time we spend several days at Juncalito Beach, use calm days for boating, meet very nice people.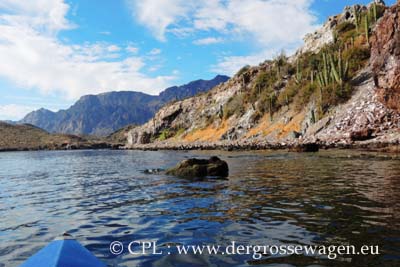 On our way north we go out to Playa Escondida. This beach is not as crowded as the other ones because of the steep and bumpy dirt road that branches off from Posada, a luxury American village. It is very nice out there, although everything is a little bit run-down. But the strong winds do not stop, no chance for boating.
We stop again in Mulegé and also in Santa Rosalía, the kids are celebrating Valentine's Day. Then we go on a side trip to the volcano Tres Virgenes - we like it very much. Lots of cacti, bushes with the strange name "Dog Poop Bush".
We find a nice spot for our camp. But everywhere where tracks are to be found you also find an awful lot of garbage - it's a shame!
In Baja California you can find a lot of endemic plants, e.g. Baja California Tree Yucca (it is not a Joshua Tree!), the Adam's Trees are a sort of ocotillo, but much bigger. We also see a lot of blooming flowers.
Now we want to do a whale watching trip again. Thus we drive to Laguna Ojo de Liebre (near Guerrerro). We camp in the dunes and see a lot of whales in the lagoon. The next day we go out in a panga boat, and it is even more impressive than in San Ignacio. There are about 1200 whales in the lagoon (about 500 of them calves), you really do not know where to look first.
When we leave after some days it is raining. But it does not last for long. After a night at Laguna Manuela we spend some more days in the Valle de los Cirios area. The landscape has changed, there are flowers and more leaves on trees and bushes. Again we appreciate the very impressive plants: the giant Cardón (Elephant Cactus), the Cirios (Boojum Trees), Baja California Elephant Trees, California Fishhook Cactus, Senitas, Candelabra Cacti, Barrel Cacti, Yuccas, Agaves and a lot of blooming flowers - this part is one of the high points!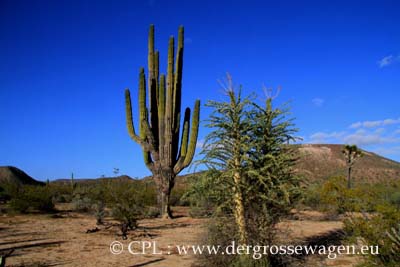 Last we go again to the coast of Erendira. Here the blooming has started, too. The wind is cool, but we enjoy the last days on the Baja. At the end of February we cross the border to the US. We have chosen Tecate again. There are no problems, but we are not allowed to take ham and bacon with us.
To sum up our visit to the Baja we must say:
A lot of Americans told us it is too dangerous to go there. But we found that the people are very friendly, we never felt unsafe.
The roads are much better than we expected. A problem are the monster trucks that drive much too fast and overtake dangerously.
The landscape is very impressive, you also see lots of birds. Whale watching is excellent. So all in all we must say:
Absolutely worth a visit.