Alaska
Alaska Highway / Wrangell NP - Kenai Peninsula / Denali - Chicken
June 2013
There are three German reports about Alaska. If you want to see maps and more pictures click the links.
Part 1: Alaska Highway, Haines, Skagway and Juneau
(Alaska Highway mit Abstecher nach Haines, Skagway und Juneau)
Our trip along the Alaska Highway starts at Dawson Creek. Because of the oil boom there is much more traffic on the road than in 2009. First the landscape is not very interesting, but near Fort Nelson it is getting better. And there is less traffic! Lakes and rivers are still frozen, but there is already a little bit of blooming. We see a lot of wildlife: caribous, bison, bear, sheep, moose, deer.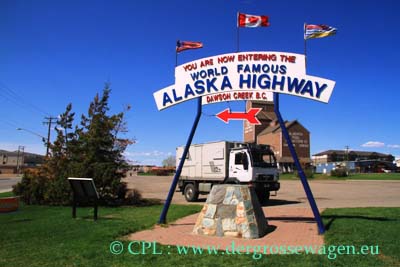 Soon we reach Yukon and have a look at the signpost forest in Watson Lake. The landscape is much more interesting now. In Whitehorse we tour the sternwheeler SS Klondike - very interesting.
At Haines Junction we leave the Alaska Highway and follow Haines Highway to Haines. There are magnificent views of the snow-covered mountains. We see a lot of squirrels and ptarmigans.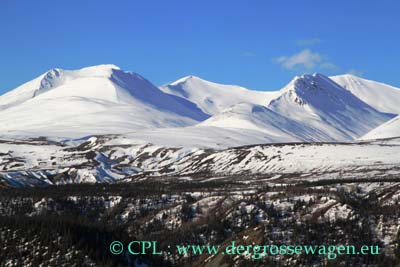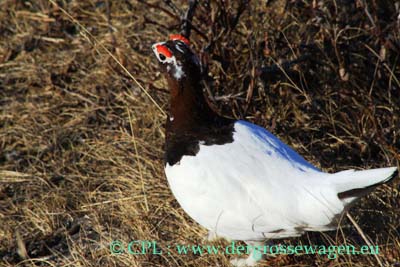 Haines is a small town with a spectacular scenery and absolutely worth a visit. Chilkat and Chilcoot Inlet are very scenic. At Chilkoot River we see a grizzly fishing - only small fish because the salmon are not running yet. We also watch a lot of bald eagles and some moose.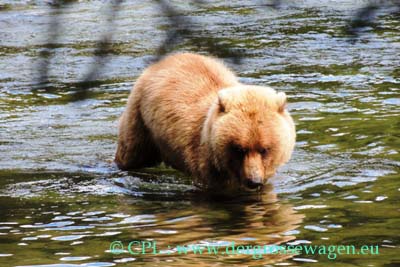 We take the fast ferry to Skagway, but we do not really like it there. There are four (!) cruise ships in Skagway and it is very crowded. Thus we are glad, that we can go back to Haines again.
The day trip to Juneau with Alaska Fjordlines is much better. We see a lot of wildlife (Steller's sea lions, bald eagles and humpback whales). Mendenhall Glacier is one of the major attractions of Juneau.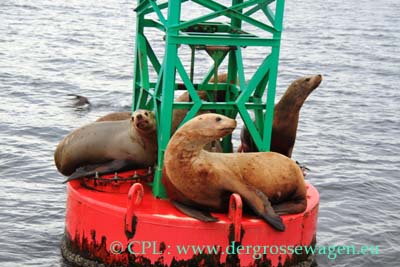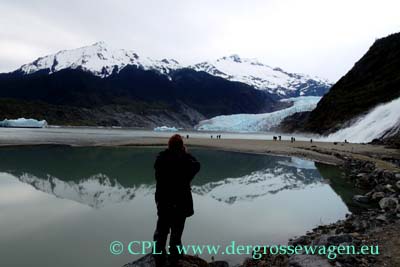 After some days we go back to the Alaska Highway. The landscape has changed because it has been very warm. There is less snow on the mountains and less ice on rivers and lakes. We see trumpeter swans, again many ptarmigans and even a porcupine.
Back on the Alaska Highway we have a look at the ruins of Silver City and beautiful Kluane lake. We also visit Burwash Landing. The snow-covered mountains of the Kluane Range provide excellent views. Soon we reach Alaska. In Tok we leave the Alaska Highway and take the Tok Cutoff.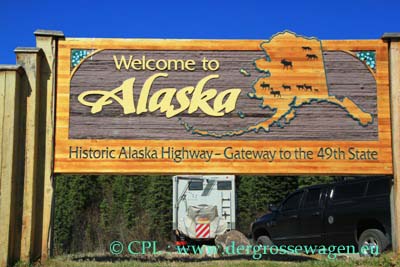 Part 2: Wrangell-St. Elias National Park - Kenai Peninsula
(Alaska 1)
On our way to Wrangell-St. Elias National Park we enjoy the views of the Wrangell mountains. The scenery is even better along Nabesna road - especially Mount Sanford - one of the highest mountains in Alaska - is really impressive.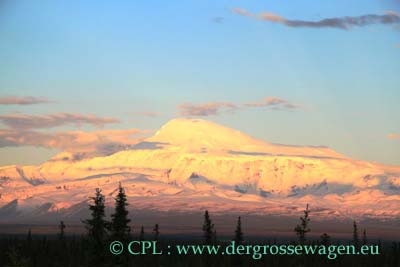 Next we take Edgerton Highway and McCarthy Road to Kennicott. The old mining town is very interesting. Then we want to go to Valdez. Of course we stop at Worthington Glacier. Here we see fog coming up. Soon we drive in thick fog down to Valdez where the weather is not good either. So we go back along Richardson Highway and soon there is sunshine again. A short side trip takes us along interesting Copper Loop Road before we take Glenn Highway towards Anchorage. Highlights along the road are Matanuska Glacier and Matanuska River.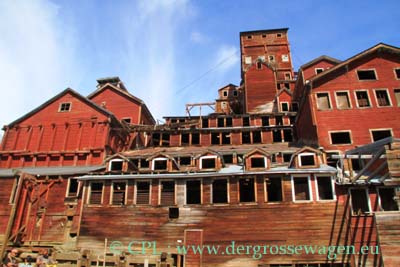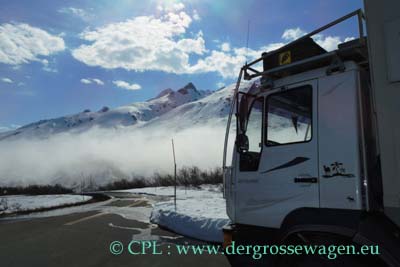 In Anchorage we have to buy new starter batteries - this is not easy because they do not really fit in. But at last it works. So we can go on to Portage Glacier Road. There is still very much ice on Portage Lake. Seward Highway takes us to Seward where we have a look at the harbor, murals, and of course Exit Glacier.
The following weekend is a holiday weekend. Normally it is getting busy then. So we drive along a bad dirt road to a little lake. Even here are already quite a lot of people, but we find a nice spot on the lakeshore. We do some boat trips, catch fish (Arctic Char), watch Common Loons very closely, have fun until a big group of people arrive. There is an awful lot of noise, even late at night it does not stop. So we leave - it is a pity, we would have liked to stay longer!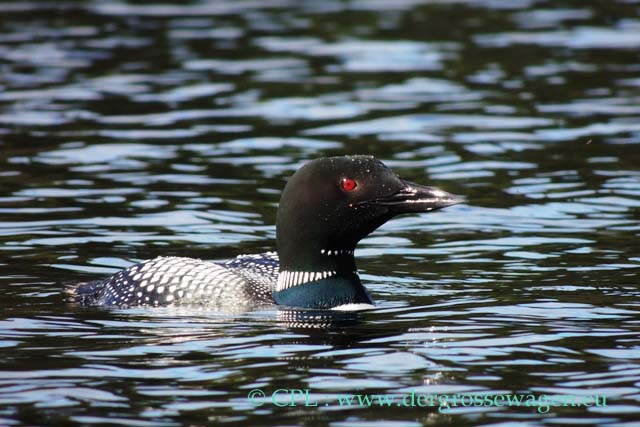 On our way to Homer we enjoy the scenery along Cook Inlet, stop at the Russian church of Ninilchik. Homer is very busy, too, so we do not stay for long. In Kenai there is a Russian church, too.
Along Skilak Lake Loop we find a nice spot on the lakeshore and do some boat tours. But again "nice" people come, they are very close and they turn on the music. It is very noisy, so we ask them to turn down the volume a little bit. We do like the Americans, but these Americans are different - they tell us that this is their land and they can do what they want to do. And that's what they keep on doing. They drink a lot of alcohol, later they drive away in their vehicle, the fire they have had is still burning - although all signs tell that fire danger is high! That's a real nuisance!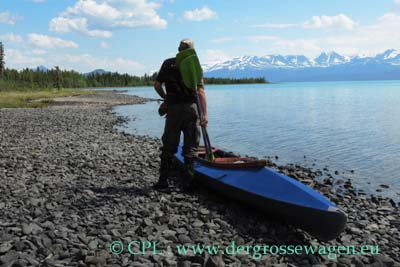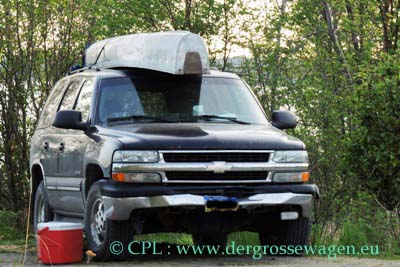 Along Seward Highway we see a lot of orchids - it is amazing, some days before there has not been anything blooming. This time we also go to Hope. The nice old buildings and Turnagain Arm are nice photo ops.
And we go to Portage Glacier Road again, now there is a lot of blooming, and the ice on Portage Lake is nearly gone!
Part 3: Denali - Chicken
The weather is very good, so we are lucky and see Mount McKinley (America's highest mountain) even from the very distance. And the view is even better from Denali State Park viewpoints. The national park itself is much too busy, on the campgrounds there is no longer "first come - first serve" and the shuttle busses have to be booked in advance and are full of people - we do not like these crowds and so we prefer going along Denali Highway with its spectacular scenery - for us Denali Highway is one of the Alaska highlights!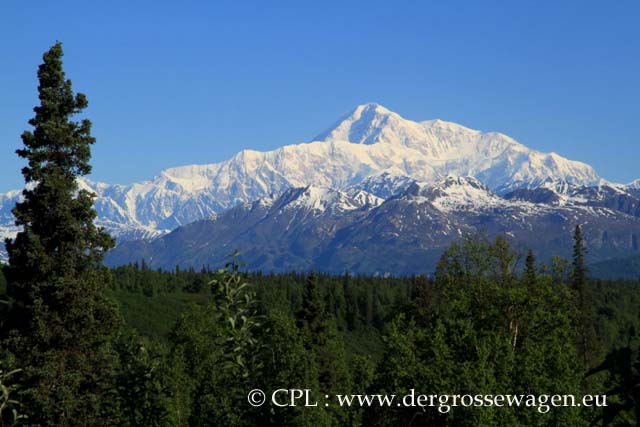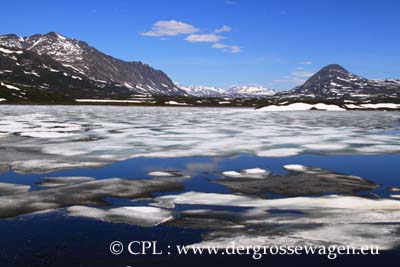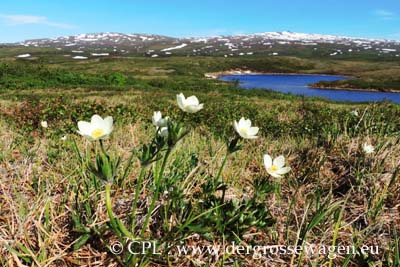 We also enjoy our drive along Richardson Highway, where we go to Gulkana Glacier, now and again see the Alaska pipeline and the mountains of the Alaska Range. And as along Denali Highway there are a lot of blooming flowers.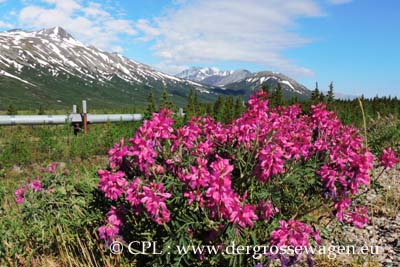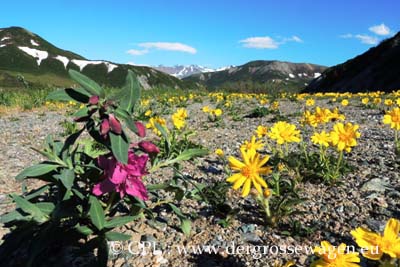 Soon we reach Delta Junction - the end of the Alaska Highway. From here we drive to Tok. The landscape is a little bit monotonous, but flowers, wildlife and some viewpoints make it more interesting.
At Tetlin Junction we leave the Alaska Highway and follow Taylor Highway which is even more monotonous. But the small settlement of Chicken is very nice. At last we reach the Top of the World Highway. When we were here in 2009 the weather was bad and we did not see very much of the landscape, fortunately this is different this time. We enjoy the views and the slopes covered with flowers before we reach the Canadian border and leave Alaska.