North and South Dakota
September 2012
To see more pictures click the link to the German report: North Dakota und South Dakota
Both North and South Dakota are agricultural states and because of that the landscape is not really very interesting. And there is an awful lot of truck traffic because of the oil-boom in North Dakota. But in addition there are also fascinating spots that are worth a visit.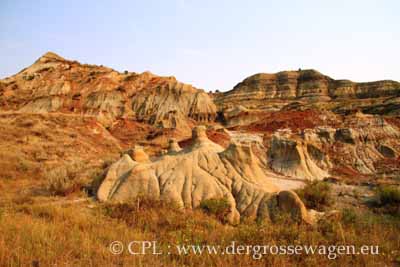 In North Dakota there is to name Theodore Roosevelt National Park with its North and South Units. The park is home to black-tailed prairie dogs - you find big prairie dog towns in both units. We also see bison. Wild horses are to be found in the South Unit. Scenic loop roads with overlooks and different trails, e.g. the Caprock Coulee Trail show the variety of badlands in this area.
The temperature is rising, that is why we decide to go to the Black Hills. Here we have a look at the old mining town of Deadwood, of course we must see Mount Rushmore, and then we head towards Custer State Park. The Needles Highway is worth driving, several narrow tunnels with low clearance make it a bit difficult for us, but we succeed, only the last one is absolutely too low. Early the next morning we drive the wildlife loop road and see big bison herds.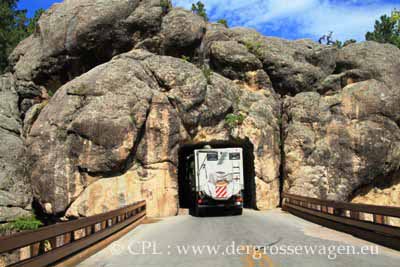 A gravel road leads through Red Valley to Wind Cave National Park. On a guided tour you can visit the cave which is very different from all the caves we know. There are no stalactites and stalagmites, but other unusual formations, e.g. popcorn and boxwork (thin, honeycomb-shaped structures).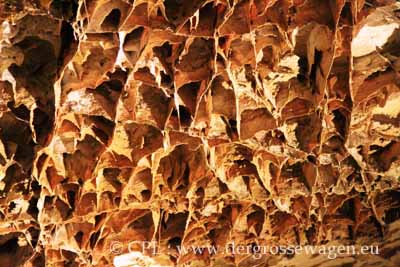 Following a gravel road through Buffalo Gap National Grassland we go to Badlands National Park. Again there are a lot of bison, we also see Bighorn Sheep. We consider Badlands National Park as one of the most beautiful National Parks east of the Rockies. But it is extremely hot - even for this area. We have more than 100 degree Fahrenheit, and that is why we leave the park after two days.
On our way westwards towards the Rockies we stop at Ellsworth Air Force Base to visit the Air Museum.
To see more pictures about prairie wildlife click the link: Nordamerika Diashows