Montana and Wyoming
September 2012
To see a map of our tour and a lot more pictures about this region please click the link to our German report: Montana und Wyoming
In Wyoming one can find more interesting destinations than Yellowstone National Park which was proclaimed the world's first national park in 1872. There is also the first national monument of the USA: In 1906 President Theodore Roosevelt proclaimed Devils Tower the first national monument.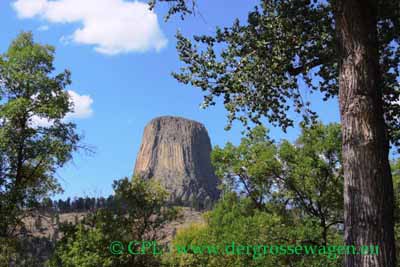 A long time ago molten magma was forced into sedimentary rocks that fractured into columns when it cooled down. Erosion later exposed Devils Tower. It is very popular with climbers and that's why we are very surprised that even at Labor Day weekend we can get a campsite on the nice campground. Close to the campground in front of the impressive rock you can find a big prairie dog town.
In the north-east of Montana we visit Little Bighorn Battlefield National Monument. In the Battle of Little Bighorn Lt. Col. George Armstrong Custer and his 7th Cavalry were defeated by Indians and a lot of them including Custer were killed by Indians. We drive along the self-guided auto tour and learn at the many stops about this historical event.
After that we are heading towards the Rocky Mountains. Beartooth All American Road leads to Yellowstone National Park. It is a very scenic route over the Beartooth Mountains on the highest highway in Wyoming - at Beartooth Pass the road rises to 10,947 feet!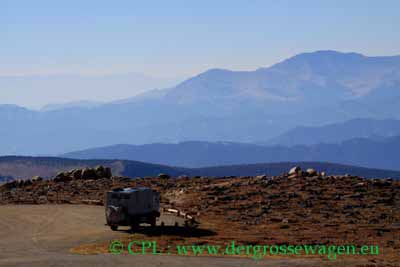 A must see for all tourists is Yellowstone National Park. That's why it is always very busy. Even after Labor Day it is not easy to find free campsites. They often fill already early in the morning.
Some information about sights that we visit:
In Mammoth Hot Springs you find terraces composed of travertine - they used to be more attractive when there was more water, but they are still worth to look at. On the nearby campground you often see elks.
Norris Geyser Basin is very interesting, however we do not really like the Mud Volcano area. The mud pots in Iceland and New Zealand are much more impressive.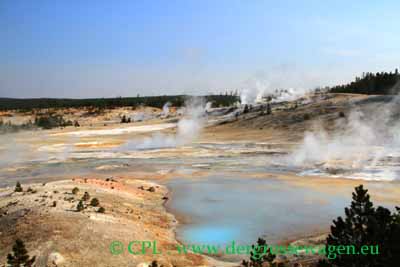 We start our tour at Midway Geyser Basin before sunset after a frosty night - a bit spooky, wonderful impressions: one of the must sees! One of the most popular attractions is the Upper Geyser Basin. Once again we arrive there early in the morning, so that we can walk in this beautiful area along Grotto Geyser, Castle Geyser, Morning Glory Pool and so on nearly alone. Of course, at Old Faithful Geyser hundreds of tourists are waiting for its regular eruptions.
Heading south towards Grand Teton National Park we find nice primitive campsites in the national forest and along Rockefeller Jr. Memorial Parkway.
Unfortunately, there is a lot of smoke from big wildfires. Thus we do not see much of the impressive Teton Range. Only for a very short time early the next morning it is a little better. Luckily there is a big bison herd in front of the magnificent mountains.
To see even more pictures about Yellowstone and Grand Teton NP click the link to our "old" report: http://www.dergrossewagen.de/usa/bericht9.php
After several weeks "on the road" we have to do some washing. This is not a problem, because there are plenty of laundries all over the country. But different from a lot of American people we do not put every item into the tumble drier. We hang our washing on a line.
We decide to go to a high desert. The Great Divide Basin with its Red Desert is not well known, but worth a visit. The easiest way to get there is from Rock Springs going north. But we drive along Wyoming 28 and turn into Oregon Buttes Road, a good gravel road. Some side roads are sandy or could get impassable when wet. We see a lot of stunning formations: Oregon Buttes, Honeycomb Buttes, The Pinnacles. Killpecker Sand Dunes is one of the largest active sand dunes in the US. Boar's Tusk is a volcanic spire. And we see a lot of wild horses.
Our next destination is Flaming Gorge NRA. If you want to see some pictures of this area click the following link to our "old" report: http://www.dergrossewagen.de/usa/bericht26.php
Of course we saw a lot of wildlife on our tour. Pictures are to be found here: Tiere der Rocky-Mountain-Staaten