California: a sidetrip to the elephant seals
March 2013
You can find a lot more pictures about this sidetrip in our German report Kalifornien: Abstecher zu den See-Elefanten
Back from the Baja California we stop again in Anza Borrego Desert State Park (have a look at Southern California) and go along the dirt road in Fish Creek Wash to the Wind Caves. We have been here before, click the LINK. This year there won't be a spectacular wildflower season, because it has been too dry and too cold, but there are flowers blooming around our campsite at Split Mountains.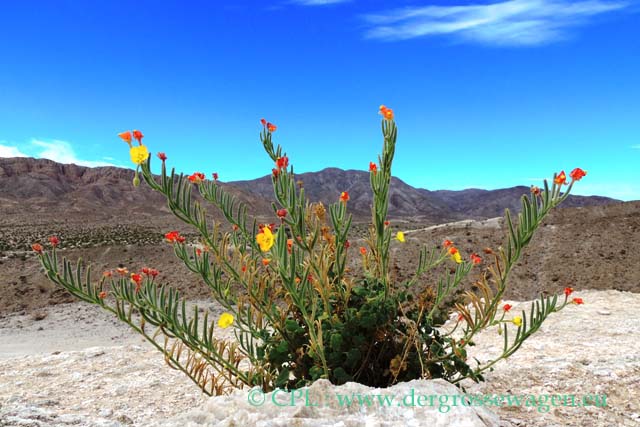 We decide to go on a side trip to the elephant seals viewing area near San Simeon. We have been here before, too (LINK), but last time the bulls hadn't arrived. This time most females have already left, but there are an awful lot of pubs (weaners) and even a lot of males. There is plenty of action and a lot of noise. Young males practice fighting, even the youngsters do so, and we see some mating. The youngsters are going to stay for some more weeks, during this time they teach themselves to swim, to dive and so on. It is an exciting experience to observe these interesting animals and we are glad that we went the additional miles.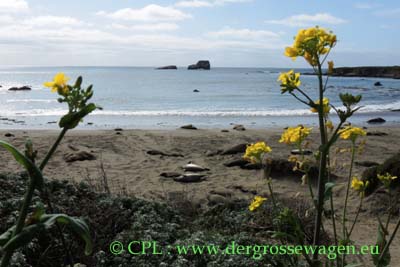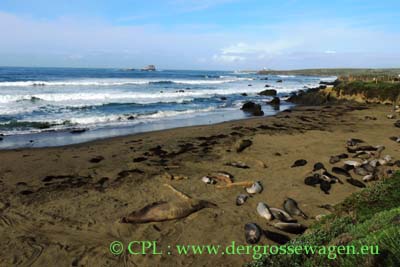 There is a gallery about these animals in our German report: Kalifornien: Abstecher zu den See-Elefanten
Because we have already gone so far we also go along the beautiful coast north to Monterey. At Fisherman's Wharf we take the chance to buy fresh fish. In the sea we see a lot of California Sea Lions. Of course we also have a look at Old Fisherman's Wharf and Cannery Row and go along Oceandrive. But best of all are the butterfly trees in Pacific Grove. Thousands of Monarch butterflies from the north spend the winter here. We see them in the trees. Unfortunately it is a little bit too cold, thus they do only hang in clusters in the trees, but do not flutter down or fly around. Yet it is very impressive.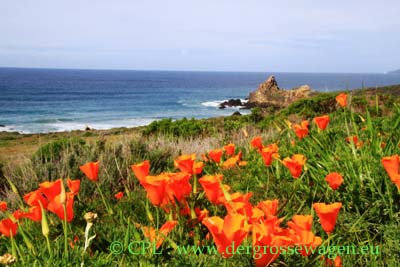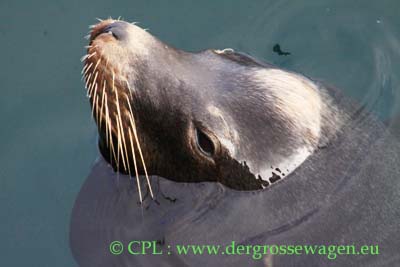 On our way back to Anza Borrego Desert State Park we spend a night at Carrizo Plains National Monument. There are two primitive campgrounds in the area, and in the ranges there are open camping areas. This treeless basin is one of the few remaining salt marsh plains; it shows what much of California was like 300 years ago.