California: deserts and northern Caifornia
May 6th, 2013
This short version is about three German reports; you will find maps about our tours and a lot of pictures there:
1. Californian deserts: Anza Borrego to Mojave - Durch die Wüsten Kaliforniens: Anza Borrego - Mojave Wüste
2. Death Valley and destinations nearby - Death Valley und Ziele in der Umgebung
3. Northern California: Mono Lake to the Redwood coast - Nördliches Kalifornien
Again we spend some days in Anza Borrego Desert State Park (Southern California). This year there is no spectacular blooming - if you want to see what it looks like click the link to our German report from 2010. But there are flowers, especially in the washes and canyons.
We visit Font's point, Culp Valley, and again we have a look at some of the metal statues created by a local artist.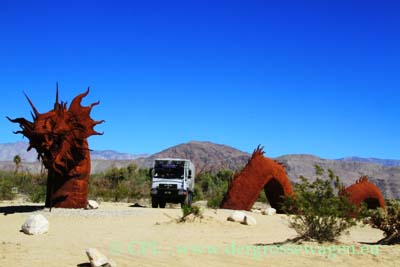 On our way to Joshua Tree National Park we go through beautiful Box Canyon, we also take a sidetrip on a dirt road to Painted Canyon - absolutely worth the way.
Near Joshua Tree NP we are lucky and see one of the endangered desert tortoises. In the park we go to the Cottonwood area, unfortunately Cholla Cactus Garden is closed. We also drive the Geology Tour Road, go to Eureka Peak and the Covington Flat area, hike the Split Rock trail.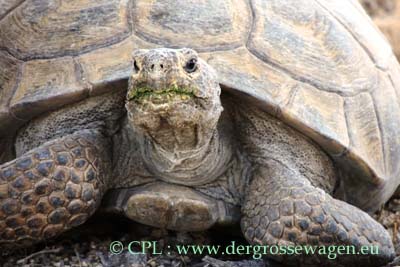 Then we leave the park, head towards Mojave National Preserve. On the way Amboy Crater - a paradise for lizards and iguanas. Along Kelbaker Road many flowers are blooming. Even at the Kelso Dunes we see blooming flowers.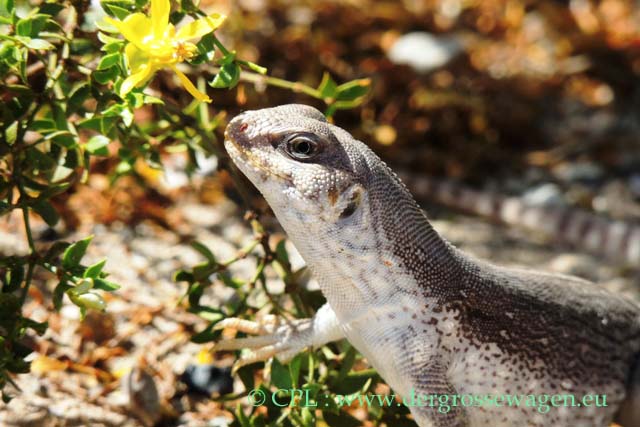 We spend many days in the preserve - one of our favorites. Near Hole in the Wall a fantastic "desert garden" with cacti and Mojave yuccas. Along Cima Road there are an awful lot of Joshua trees, even more than in Joshua Tree NP, they say it is the world's largest concentration of Joshua trees. Last but not least we spend a couple of days near the Cinder Cones - so we can escape the busy Easter days and see masses of flowers.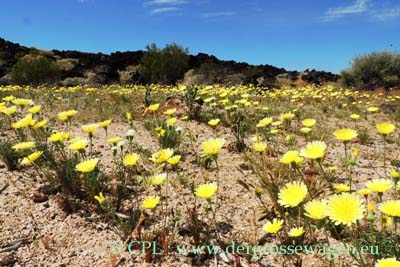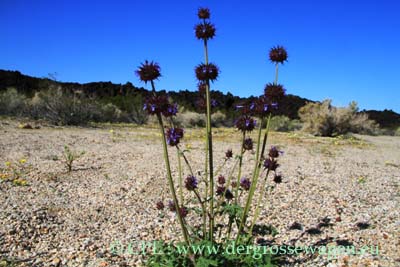 If you are interested in more pictures of wildflowers in the Mojave desert, click the link Wildblumen der Mojave Wüste.
Next we go to Death Valley National Park. We have been here before and try to go to places that we haven't been to yet. But first we go to destinations that we already know: Warm Springs Canyon Road, Echo Canyon Road, Badwater, Devil's Golf Course, Artist Drive, Zabriskie Point, 20 Mule Team Canyon, Dante's View and Salt Creek - this time with a lot of pupfish.
Then we find new trails in the backcountry brochure: Hole in the Wall Canyon, Emigrant Canyon Road with sidetrips to Aguereberry Road, Eureka Mine and the Charcoal Kilns.
Now we leave the national park and on our way to the Trona Pinnacles we take the dirt road to Ballarat Ghost Town, where we see some burros.
At Trona Pinnacles you can find more than 500 pinnacles - a fantastic landscape, that has been location for many science fiction movies. But there is a gusty wind, that's why we leave the next day. South of Ridgecrest there is another scenic area - Red Rock Canyon State Park. They have a nice campground and some dirt roads - we take the one through Iron Canyon.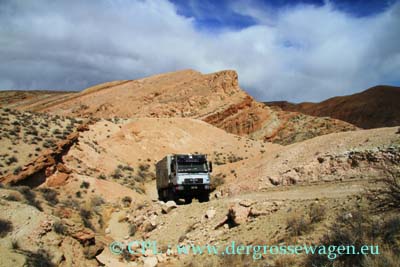 At the end of our "desert tour" we want to go to the Eureka Dunes in Death Valley National Park. Heading north we find a nice and scenic small area - Fossil Falls. In former times river Owen flowed here and the swirling water formed smooth round holes. We also visit Alabama Hills again - location for a lot of western movies.
Eureka Dunes are the highest sand dunes in California. You can camp at primitive campsites there. We spend some days here and enjoy hiking the dunes. But the gusty wind drives us away - we go north - Alaska is waiting for us!!!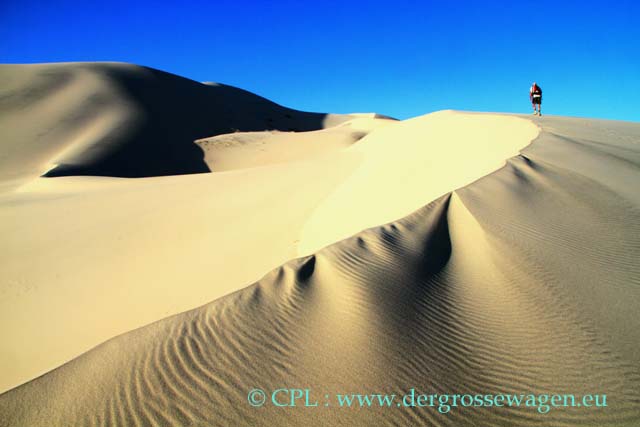 On our way north we first stop at Mono Lake. There is much less snow than in 2010, thus we can reach some destinations that we could not three years ago: e.g. Granite Mountains Wilderness, where we see a fantastic landscape and wild horses.
Because of the wind we do not camp near Mono Lake, but find a spot in Inyo National Forest. During the night there is a lot of fresh snow. We are not able to drive out. So we have to take our shovels and clear the snow away, but there is fresh snow again and again. At last we are successful, after a frosty night without any snowfall we clear the path again a little bit - and then we can get out of the forest.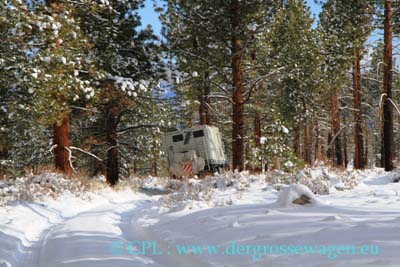 So we have the chance to look at the tufa towers of Mono Lake before we visit Bodie Ghost Town. Bodie is a very interesting example of a once bustling goldrush town. It is fun to walk along the streets and buildings.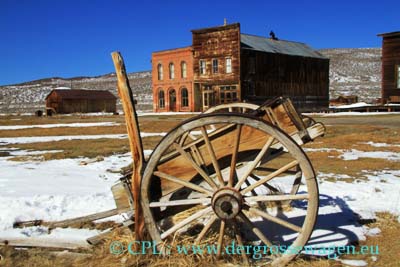 Lassen Volcanic National Park is one of the main attractions along our tour north. But there is a lot of snow, so we can only go as far as Sulphur Works. Lassen National Forest is not as high, so we can spend the night there and enjoy the sun.
We follow Cal 36 - a scenic route for the way west, especially in spring, when the flowers are blooming. But it takes a lot of time, because the road is a narrow, winding one.
Soon we reach the coast, stroll along the main street in Ferndale and spend some days at Mattole beach. The sand dunes here are covered with blooming flowers. At last we spend some time in the Redwoods (state parks and the national park). The giant trees are very impressive, and there are orchids, too.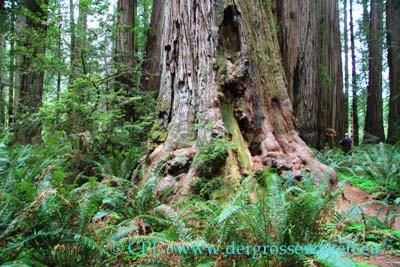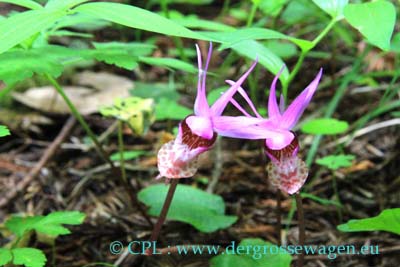 We explore Crescent City again. There are nice murales, a lot of California Sealions and Harbor Seals, even Sea Otters. The coastline is beautiful. Battery Point Lighthouse is to be reached at low tide. And finally we go to another Redwood park - Jedediah Smith Redwoods State Park. On a very narrow and bumpy dirt road we drive through the giant redwoods - one of the highlights, before we leave California and reach Oregon.