Southern California
January 2013
There are much more pictures in our German report Südliches Kalifornien
We want to spend New Year's Eve in the dunes of the Imperial Sand Dunes Recreation Area, but when we arrive in Glamis there is an event: the razor camp of Polaris. Thousands of motorhomes and maybe even more OHVs are there. That's too busy for us - so we turn and go back along the 78 and find a quiet spot for the night.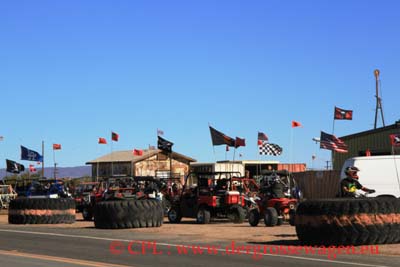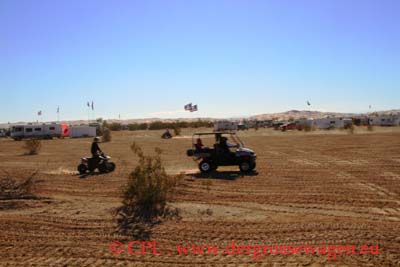 The next morning the dunes look terrible, what a difference the ones on the other side of the road, where the area is closed for OHVs.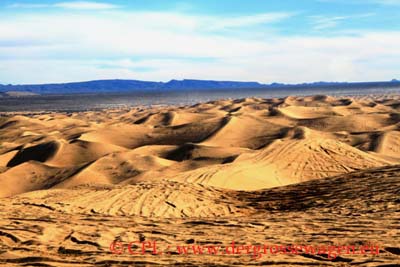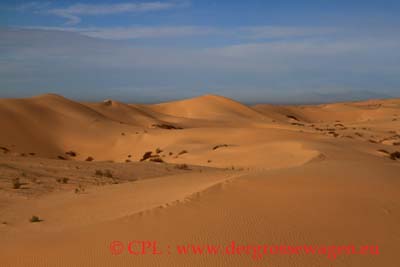 At Salton Sea we see a lot of birds: Snow Geese, American Avocets, Black-necked Stilts, Long-billed Dowitcher etc.
We spend the next two weeks in Anza Borrego Desert State Park where we boondock at different, but always beautiful sites. There are tarantulas and coyotes to be seen, but all in all the park is much drier than in 2009. There has been too less rain, but we hope that there will be some blooming later when we come back here (as it was in spring 2010).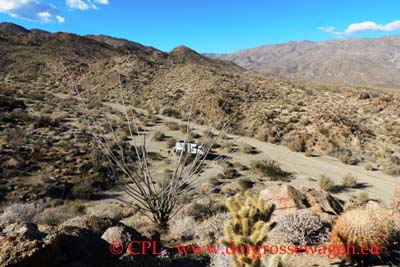 First we just relax, Christine has to recover from illness. And she has to go to the dentist. Altogether it is OK, very friendly, very professional, but we are a bit concerned about the very long questionnaire that has to be answered. Questions about "race" and "ethnicity" we do not really understand.
The internet in Borrego Springs works well, so we have the chance to do some research. We are successful in finding an American insurance for our vehicle, also get the insurance for Mexico.
Fit again we do some hiking. There is a nice little slot canyon in the area. Of course we hike into Palm Canyon where we see desert bighorn sheep. In Blair Valley there are petroglyphs.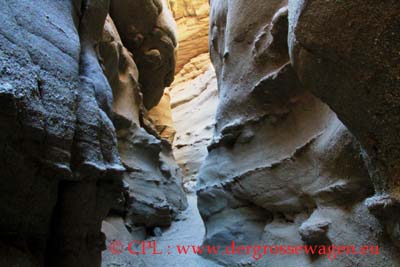 Everywhere in the state park there are wonderful cacti (have a look at our gallery in the German report Südliches Kalifornien), and because there is a little bit of blooming there are also hummingbirds and butterflies.
Once again we go to Salton Sea and in addition to the above mentioned birds we also see hummingbirds, doves, ibis and even a burrowing owl.
Because we want to get the Baja Almanac for our trip to Mexico (Amazon is not able to deliver an actual version - we also search in Brawley, Yuma, El Centro for any map of the Baja: without success!) we go to San Diego. At the Discover Baja Traveler Club we are able to get an Almanac. The new edition has not arrived yet, but the friendly stuff finds a very last one of the 2009 edition for us.
The last night before we go to the Baja we spend on the campground at Petrero County Park. It is nice, but we think that $ 27 is too expensive for what it offers.